HAPPY PRIDE, EVERYONE! how are you?
this is my very first audiobook, and what a life-changing experience. frankly, there are a lot of perks audiobooks have to offer. my most favorite is that you can multitask. like, when i was listening and scrolling through twitter as the same time. or doing the dishes and the laundry. love it! although at first, it felt strange, but i got used to it and that is more important. if you have some audiobook recs, please comment them below!
for now, check out my thoughts on Perfect on Paper and have some bookish fun!
*BY CLICKING AND PURCHASING THROUGH THE PURCHASE LINKS PROVIDED, THE BLOGGER MAY EARN COMMISSIONS
some time ago, this book received hate because the woke people of book twitter thought it was not queer enough, and because of what? no gay sex. someone also questioned why is the book categorized as queer when the "main relationship looks like a straight one". to those woke people, let me ask a question, did you even bother giving this book a chance before commenting such idiocy? and if we talk about reality, have you even thought of the possibility that not all teenagers think about sex or have sexual urges?
when i remembered that drama, i thought as i finished listening to the audiobook: the story was talking about that. about how people make bisexuals doubt themselves because of who they are dating or who they dated. if a bisexual woman dates a straight man, that does not make the woman straight. she is still bisexual and did not "turn straight" (as biphobes call it). i think Sophie Gonzales did a great job at portraying such scenario. i also loved the idea of a Queer and Questioning Club included in the book, as it also became a safe place for me. like, everytime they had a meeting, it felt like i was included.
just to be clear, i am gay and not bisexual, however, Sophie Gonzales made me feel validated through the book. i remembered those times when bullies use my sexuality as an insult (such things are still happening, but i am not that bothered anymore). at some point, it made me not want to use the term 'gay', leaving me confused and frustrated. then, i realized that if i do that, i was giving up and letting them have the last laugh. i did not, do not want that. so, i am gay and will always be.
i cried at that part when the members of the Queer and Questioning Club were validating Darcy. i felt the validation they were giving, and that was when i knew that this book is super impactful and is a very imperative read to those who are uncertain about their identity. thus, if your are queer or questioning, then please read this book. i hope it will make you feel valid as it did to me. and i hope it will empower you more than ever. fuck all them biphobes, homophobes, transphobes, etc.! they all do not get to erase our sexuality, because that is like erasing our existence! AND WE REFUSE TO BE ERASED!
as for characters: Brougham was annoying and kind of entitled, although i developed a soft spot for him when i got to know his personal life more. then, there was Ainsley, Darcy's trans older sister, who was so into fashion and had her own vlog. Brooke was cute! and the fact that she works in a cosmetic store made me remember that time when i used to watch a lot of make-up vlogs. i still watch now, but not that much. all the ones i used to watch frequently are now drowning in drama. my most favorite character was Darcy! loved the anonymous love advice thing, which made me think of Sex Education (yet to watch season 2). also, her character development was satisfactory.
aside from romantic relationships, the book also touched familial ones through Darcy's family and Brougham's. the book also pointed out that even though young, teenagers know things too, which reminded me of the lyrics from Cardigan by Taylor Swift: when you are young, they assume you know nothing.
a validating book with a lot of takeaways. i am super grateful to Sophie Gonzales for writing this story. really makes me so proud!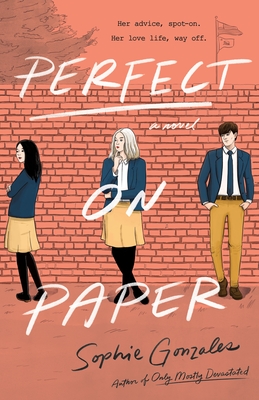 title: perfect on paper
author: sophie gonzales
publisher: wednesday books
release date: 9 march 2021
age category: young adult
genre/s: contemporary
purchase link/s: [ indiebound | bookshop | libro.fm ]
about:
Her advice, spot on. Her love life, way off.

Darcy Phillips:
• Can give you the solution to any of your relationship woes—for a fee.
• Uses her power for good. Most of the time.
• Really cannot stand Alexander Brougham.
• Has maybe not the best judgement when it comes to her best friend, Brooke…who is in love with someone else.
• Does not appreciate being blackmailed.
However, when Brougham catches her in the act of collecting letters from locker 89—out of which she's been running her questionably legal, anonymous relationship advice service—that's exactly what happens. In exchange for keeping her secret, Darcy begrudgingly agrees to become his personal dating coach—at a generous hourly rate, at least. The goal? To help him win his ex-girlfriend back.
Darcy has a good reason to keep her identity secret. If word gets out that she's behind the locker, some things she's not proud of will come to light, and there's a good chance Brooke will never speak to her again.
Okay, so all she has to do is help an entitled, bratty, (annoyingly hot) guy win over a girl who's already fallen for him once? What could go wrong? [ goodreads ]
---
SOPHIE GONZALES writes young adult queer contemporary fiction with memorable characters, biting wit and endless heart.
She is the author of THE LAW OF INERTIA and ONLY MOSTLY DEVASTATED. PERFECT ON PAPER and IF THIS GETS OUT (co-written with Cale Dietrich) are forthcoming in Winter and Fall 2021 from Wednesday Books / Macmillan.
When she isn't writing, Sophie can be found ice skating, performing in musical theatre, and practicing the piano. She currently lives in Melbourne, Australia where she works as a psychologist. [ author website | twitter | instagram ]
WHAT IS YOUR FIRST READ FOR PRIDE MONTH? AND WHAT ARE YOUR THOUGHTS ON AUDIOBOOKS?