hello, everyone! how is your August so far?
first of all, i want to thank everyone who are still supporting my blog even though i do not post that often (this is my first post for this month, by the way)! your support is everything and i hope you will not get tired of supporting bookish blogs!
this post features A.J. Vrana's latest and final book in the The Chaos Cycle Duology. if you want to know more about the duology, you can click here and be redirected to the author's website. today is also this book's release, so happy book birthday!
for now, i am giving the spotlight to The Echoed Realm and i hope you will give this duology a chance! have some bookish fun!
*BY CLICKING AND PURCHASING THROUGH THE PURCHASE LINKS PROVIDED, THE BLOGGER MAY EARN COMMISSIONS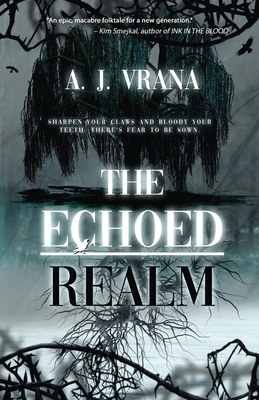 title: the echoed realm
author: a.j. vrana
publisher: parliament house
release date: 10 august 2021
age category: adult
genre/s: fantasy
purchase link/s: [ indiebound | bookshop | amazon | kobo ]
about:
An epic, macabre folktale for a new generation.
Miya's world ended in Black Hollow.
It's been three years since the Dreamwalker upended her life and left her with a heavy burden. A fledgling to the ethereal realm, Miya stumbles into the nightmares of those haunted by spectres. Little does she know, one of them is coming for her, clutching a dark secret abreast.
Kai has found a new purpose with his companion, but the price is his freedom. Bound and beholden to Miya, he struggles to adjust to his new role as her vanguard.
Meanwhile, Mason discovers he may be a pawn trapped in a web of schemes. Was his time in Black Hollow an accident, or was it only the beginning of some greater machination?
As Black Hollow's bloody stain spreads beyond its wooded borders, Miya fights to evade a past she barely understands. The Dreamwalker's legacy is a vise grip, and it isn't letting go. Primordial horrors draw near, fables come alive, and long-buried histories rise from the grave, ready to hunt.
Sharpen your claws and bloody your teeth. There's fear to be sown. [ goodreads ]
---
A.J. VRANA is a Serbian-Canadian academic and writer from Toronto, Canada. She lives with her two rescue cats, Moonstone and Peanut Butter, who nest in her window-side bookshelf and cast judgmental stares at nearby pigeons. Her doctoral research examines the supernatural in modern Japanese and former-Yugoslavian literature and its relationship to violence. When not toiling away at caffeine-fueled, scholarly pursuits, she enjoys jewelry-making, cupcakes, and concocting dark tales to unleash upon the world. Her published works include The Chaos Cycle Duology: The Hollow Gods (2020) and The Echoed Realm (2021) from The Parliament House Press, and a short supernatural horror story, These Silent Walls (2020), printed in Three Crows Magazine. [ author website | facebook | twitter | instagram ]