hello, everyone! how are you?
welcome to the Once Stolen Blog Tour, organized by the author, D.N. Bryn! thank you so much for selecting me as one of the hosts, a great honor! originally, i planned on posting a review, however, due to some unexpected circumstances, here is a book spotlight instead. do not worry though, other hosts are posting their reviews. if you want to follow the tour, here is a link you can click.
for now, here are some major information about the book and the author! have some bookish fun!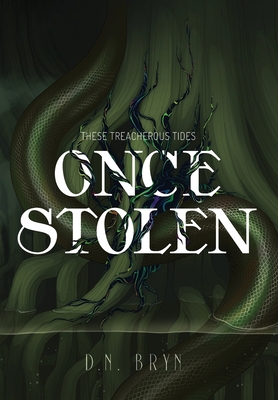 title: once stolen
author: d.n. bryn
publisher: bryn books
release date: 27 july 2021
age category: young adult
genre/s: fantasy
purchase link/s: [ indiebound | b&n | amazon | kobo | smashwords | book depository ]
representation/s: (cacao) pansexual, autistic, sensory disorder; (thais) nonbinary she/her, may be read as a person of color; (rubem) biracial Black man, homosexual; (xera) vaguely a person of color, nonbinary, deaf, bisexual, social anxiety; (fern) pansexual.
content/trigger warning/s: cultural ableism, adolescent abandonment, two instances of animal injury and death, accidental house fire, kidnapping, secondary character drinking alcohol including non-violent drunkenness.
about:
No one with half a brain would rob the jungle's most notorious energy cartel. The vibrations of their power-producing stones are the only thing that calms the mer-snake Cacao's agonizing sensory condition though—and after being banished from his homeland swamps for similar thefts, he's desperate.
When his attempt fails stunningly, a chaotic escape leaves him chained to a cartel prisoner: a self-proclaimed hero with a hidden stash of power stones so large, Cacao would never need to steal again. He's determined to get his hands on it, even if it means guiding her home straight through the mist-laden and monster-filled swamp that exhaled him, with scheming poachers and a desperate cartel leader on their tail.
But the selfish and the self-righteous can only flee together for so long before something snaps… [ goodreads ]
---
DANNY BRYN is a queer, disabled, non-binary speculative fiction author of the liberal Jesus-freak variety. When not writing, they conduct infectious disease surveillance in their hometown of San Diego, where they enjoy basking in the Santa Ana winds, hiking the brush-heavy slopes, and eating too many tacos. [ author website | twitter | facebook | goodreads | amazon | bookbub | mailing list ]