the synopsis of this book really fascinated me. then, NetGalley and the publisher decided to make it ready to download many days ago, and boy i never clicked faster! if you're wondering if it's still available to download, i'm sorry but you're too late. the 'read now' was only up for 48 hours. anyway, thank you NetGalley, publisher, and author for this book! one of my favorites this year! for now, welcome to this post and let's have some bookish fun!
*AN ADVANCED READERS COPY OF THIS BOOK WAS PROVIDED IN EXCHANGE FOR AN HONEST REVIEW
*BY CLICKING AND PURCHASING THROUGH THE PURCHASE LINKS PROVIDED, THE BLOGGER MAY EARN COMMISSIONS
the book follows the story of a white teen named julie and her japanese-american teen boyfriend, sam. how julie navigates life after sam's death. how moving on becomes unreachable when julie calls her dead boyfriend's number, and sam answers.
the book deals with grief and how it affects one's perspective towards life and their self. after finishing the book, there is one observation that i can't get rid of – sam's death is both a blessing and a curse.
first, i want to talk about the curse aspect of his death, which is of course the sadness he left behind (and i'm not blaming him for that, just to be clear). for julie, his death is unacceptable. for years: they were almost inseparable, it was them against the world, they had so many plans after finishing high school, they were each other's fuel when it comes to their creative endeavors, and then just like that, the unforgivable wind of tragedy blew everything away. honestly, i tried to imagine myself in julie's situation, and yes, i think my reaction would be almost the same as hers. then the phone call happened, which makes letting go even more difficult. sam also worries about leaving a legacy behind, which is completely understandable since his death was so premature.
since i mentioned the phone call, i want to give my opinion on the magical realism aspect of the story. i've read statements about the magical realism in the book where some readers stated that it doesn't make sense to them due to lack of explanation, which i truly understand. at some point, i found myself asking for an explanation as well. how is this happening? however, no information provided. then, i watched Your Name, an anime movie which has a similar magical realism element as the book. after watching, i concluded some things just doesn't make sense. it is what it is. it is happening and it doesn't require explanation.
now, sam's death as a blessing. one thing i like about julie's character is she loves to write. when sam was alive, he would encourage her to write lyrics. after his death, she lost confidence in her writing, which is a huge deal since she applied for a creative writing program at a university of her choice. however, she transformed the grief she felt into her muse. it reminds me of myself when i used to write poems, which mostly derived from my negative emotions. despite the sadness, julie finds her footing and continues her journey.
the book has a diverse cast of characters, from lgbtq+ to asian. emphasis on asian, as the book opens up about the racism asians are facing in the united states. these past few weeks, news spread about asians being attacked in america, and for no reason. as asian myself, it is heartbreaking to hear and to think of. i think one of the worsts is an attack in georgia, leaving eight lifeless bodies, six of them asian, and family members devastated.
a highly evocative book that opens the mind, breaks the heart, and explores grief. i am begging you all to pre-order it now! Dustin Thao is a notable author and i can't wait to read more of his works!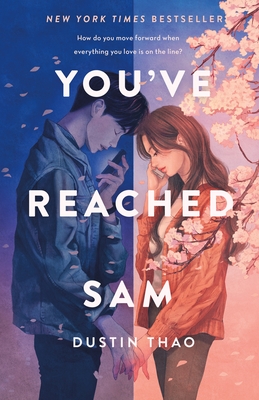 title: you've reached sam
author: dustin thao
publisher: wednesday books
release date: 2 november 2021
age category: young adult
genre/s: contemporary, romance, magical realism
purchase link/s: [ indiebound | bookshop ]
representation/s: asian, lgbtq+, asian-american
content/trigger warning/s: vehicular accident, death of a loved one, divorced parents, bullying, racism
about:
If I Stay meets Your Name in Dustin Thao's You've Reached Sam, a heartfelt novel about love and loss and what it means to say goodbye.
How do you move forward when everything you love in on the line?
Seventeen-year-old Julie has her future all planned out—move out of her small town with her boyfriend Sam, attend college in the city, spend a summer in Japan. But then Sam dies. And everything changes. Desperate to hear his voice one more time, Julie calls Sam's cellphone just to listen to his voicemail. And Sam picks up the phone.
What would you do if you had a second chance at goodbye?
Filled with a diverse cast of characters, the heartache of first love and loss, and the kind of friends that can get you through anything, plus a touch of magic, You've Reached Sam will make an instant connection with anyone looking for a big emotional romance of a read. [ goodreads ]
---
DUSTIN THAO is a Vietnamese American writer based in Chicago. He graduated from Amherst College with a B.A. in Political Science, and is currently in a PhD program at Northwestern University. He writes contemporary fiction, and his debut novel You've Reached Sam will be published November 2021 with Wednesday Books. [ author website | twitter | instagram ]
WHAT ARE YOU THOUGHTS ON THE COVER?
HAVE YOU WATCHED YOUR NAME?